Debate in celebration of COPPE's 60th Anniversary has Prof. Guilherme Horta Travassos (PESC) as Moderator
COPPE – Alberto Luiz Coimbra Institute of Graduate Studies and Research in Engineering – celebrating its 60th Anniversary, is organizing the debate "Artificial Intelligence and Its Reflexes in Society", on the 25th of May, at 9 am, in the auditorium of CT2 .
This debate opens the series of debates entitled Agenda Coppe e Sociedade, aimed at discussing the future of Engineering in teaching, research and innovation.
The debate will be attended by professors: Marley Maria B. R. Vellasco (PUC-Rio), Virgílio Augusto Fernandes Almeida (UFMG), Andre Carlos Ponce de Leon Ferreira de Carvalho (USP-São Carlos) and Álvaro L. G. A. Coutinho (NACAD /COPPE). Prof. Guilherme Horta Travassos (PESC) will be the moderator. And NVIDIA's Senior Manager for Energy & High Education Research, Fernando Otávio Wehrs Pereira, will be in the debate.


There will be a live broadcast on COPPE's Youtube channel.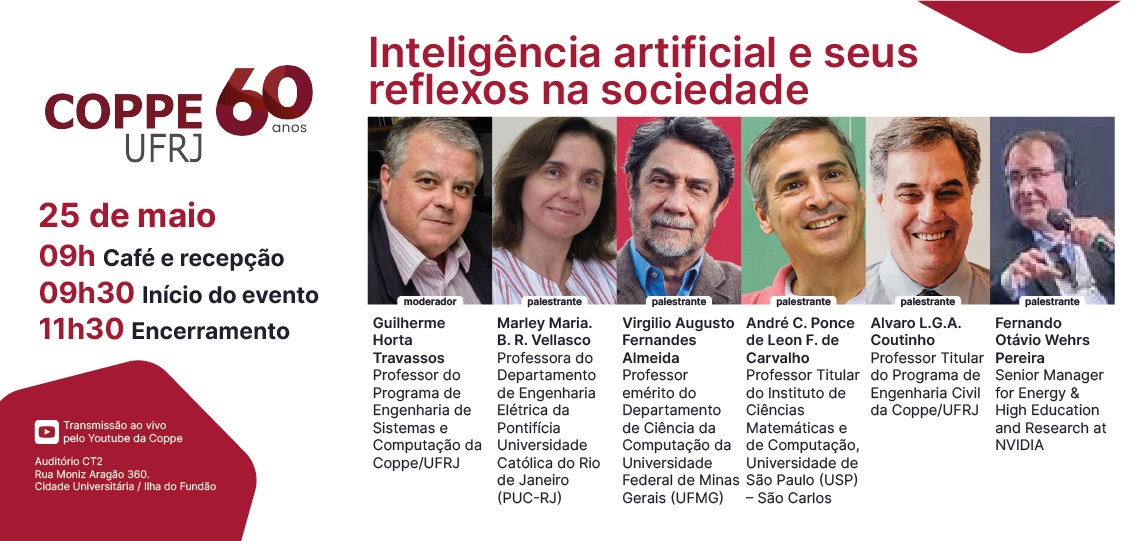 Published on 05/11/2023